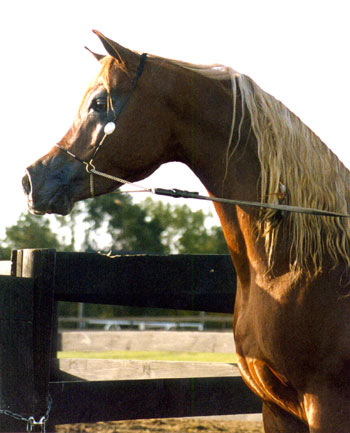 ZT Faa'iq
Stallion
1995
Straight Egyptian Arabian
Flaxen Chestnut
15.1hh
Halter,Dressage,Trail.
Proven in all arenas, At almost, 15.2hh, with an extreme head and neck, and winning conformation, he has been proven an exceptional show horse and a high quality individual. Now, along with his confirmation of quality by the Judges, he has been proven an excellent breeding stallion, with foals selling at top market prices.
They are beautiful, tall and leggy with long, upright necks and short backs. These foals have *ZT Faa'iq's athletic conformation with wide chests, powerful hips, good legs And ground covering strides. They are affectionate, intelligent and bond quickly with their human families. Each one is a joy and will give many happy years of affectionate companionship to those lucky enough to own a *ZT Faa'iq foal.
Foals Sired By *ZT Faa'iq
ZT Ra'Ra - - - - - - - - [unkown]Filly]
Jamar'iq - - - - - - - - - [unkown]Colt]
Rufantasy - - - - - - - - - - -[unkown]Filly]
Z Farris Ali - - - - - - - - - [unkown]Colt]
Z The Angle - - - - - - - - [unkown]Filly]
Z Ajiba - - - - - - - - [unkown]Filly]
Z Jamar'iq - - - - - - - - [unkown]Filly]
Z Faa'iq Lady - - - - - - - - [unkown]Filly]

|Shaikh Al Badi
|Ruminaaja Ali
|Bint Magidaa
|Anaza El Farid
|*Ansata Ibn Halima
|Bint Deenaa
|*Deenaa
ZT Faa'i
|Madkour
|*Jamilll
|Hanan
|ZT Jamdusah
|Hossny
|IES Sondusah
|SD Bint Sonbohla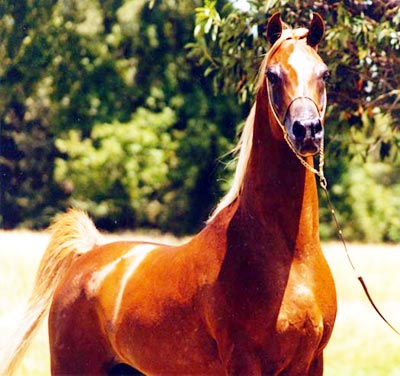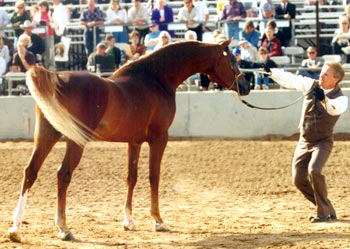 6th - Level II Dressage - SS Show Board
4th - Senior Stallion Halter - Sim Arabian Event
1st - Class 1 Halter - WSS Too Bored Show
8th - Halter Section B - Foxwood Farm Show Board
7th - Stallion Halter March - Indio Arabian Show Board
Honorable Mention - Class 4 Dressage - WSS Too Bored Show
4th - Stallion Halter B - Allsim Arena
6th - 1998+ B - Allsim Arena
Titles:
Sim Arabian Event Top Ten Senior Stallion
Unanimous European Junior Champion Colt
Reserve Junior World Champion Colt Salon du Cheval
Reserve Junior Champion Colt of the All Nations Cup
Reserve Junior Champion Colt at the Egyptian Event