*Dakar El Jamaal
Stallion
1994
Egyptian Arabian
Grey
15.1hh
Halter,English Pleasure,Trail
His free-moving shoulder, high arching neck, long legs, and powerful hindquarters all come together very elegantly. His pretty face and strong body are only one element of his appeal. His natural ability to perform under saddle is what sets him apart.
In addition to Dakar's pedigree representing many beautiful champions, it also represents the lifetimes of many dedicated small breeders who chose stallions they felt would give their treasured mares the best chance to produce the ideal Arabian. We remain thankful for their efforts every moment we share with Dakar...for we feel he has inherited the best characteristics of his pedigree - rich with legendary horses that were not only extremely special to their breeders, but loved by the people of the world as well.

Foals Sired By *Dakar El Jamaal
*Jamaara - - - - - - - - - [BAA]Filly]
Z Daker Omayma - - - - - - - - - [unkown]Filly]
Z Tarlisa Of Jammal - - - - - - - - - [unkown]Filly]
Z Alaker Jamaal - - - - - - - - - [unkown]Colt]

|Shaikh Al Badi
|Ruminaja Ali
|Bint Magidaa
|Ali Jamaal
|El Magato
|Heritage Memory
|Heritage Labelle

Dakar El Jamaal
|*Karadjordje
|KJ Jordgee Boy
|Chloette
|Sonoma Lady
|*Kirkor
|Brandie
|Princess Ann
About His Sire
Ali Jamaal alone would have brought fame for his sire, as he set a standard of Arabian type, harmony and elegance throughout the world. Hes get have won whatever there was to be won, on almost every continent. Ali Jamaal himself stood in the limelight as National Champion in Canada and the USA. Ruminaja Ali was superior to Shaikh Al Badi in genetic prepotency, and Ali Jamaal is ahead of his sire by a short head. Lenity Perroy in Brazil has been Ali Jamaals owner for many years and has managed him with circumspection and deep love. Among Ali Jamaals sons, there are some who are not only a match for their sire but who surpass him. "You wish to have in your life two horses like Ali Jamaal," Lenita perroy says. "But believe me, you are the happiest person on earth if you have a single one like him!"Here is a bit Ali Jamaals Show record:1985 US National Futurity Champion1989 Canadian National Champion Stallion, and 1990 US National Champion Stallion. Ali Jamaal has sired National Champions in the US, Canada, Brazil, Europe, The Middle East and Australia.
About His Dam
Sonoma Lady, dam of *Dakar El Jamaal, was 1985 Canadian National Champion Mare and 1985 US Reserve National Champion Mare. Besides other champions, Sonoma Lady is the dam of Sonoma Sweet Chimes, 1995 Scottsdale Junior Champion Filly.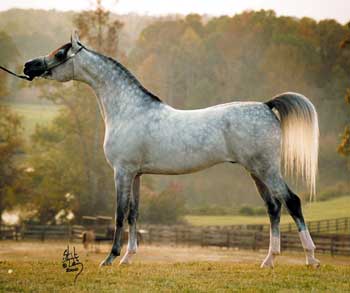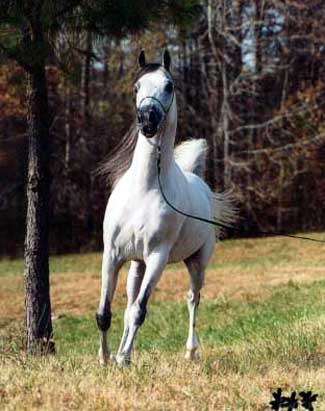 9th - Section C Halter - Foxwood Farm Show Board
2nd - Stallion Halter - Indio Arabians Show Board
2nd - Senior Halter - SS Show Board
5th - Grey Halter April 7 - MOAS
2nd - Stallion Halter B - Allsim Arena
4th - 1998+ B - Allsim Arena
Titles:
2002 U.S. National Champion Sr. Stallion
2002 Scottsdale Reserve Champion, Stallions of 1996
2002 Scottsdale Get Of Sire Winner
2002 Alabama Arabian Show Get of Sire Winner
2002 Arabians At River Glen Get of Sire Winner
2001 U.S. Reserve National Champion Stallion
2001 Scottsdale Champion, Stallions of 1996
2001 Unanimous East Coast Champion Stallion
2001 Carolina Mtns. Arabian Festival Grand Champion Stallion