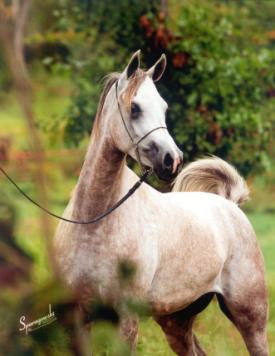 U.P. Shari
1990 Grey Mare Straight Egyptian Arabian 14.3hh
Hater,Country English Pleasure,Country Pleasure Driving,Park.
|Maymoon (Kaisoon x Maymoonah)
|Ibn El Moniet
|Moniet (Kaisoon x Moneera)
U.P. Shari
|Moniet el Ssharaf (Ibn Moniet el Nefous x Bint Bint Moniet)
|Shariha
|AK Tashiha (Farazdac x Hegrah)
Foals:
Saherah Bint Shari
Shareefa Bint Shari
Shari can be a bit tricky at times; she's very protective of her foals, more so than other mares. She can act almost coltish at times, but there is no organism on the face of this earth who is a better mother that Shari. She will do anything to give the best to her foals.