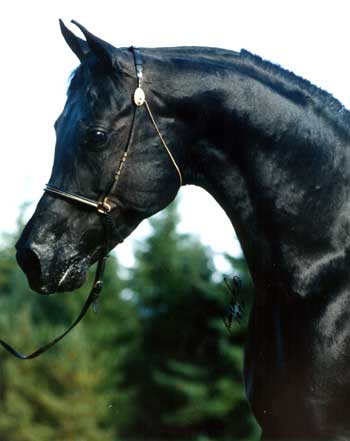 Haziz Halim
Stallion
1987
Straight Egyptian Arabian
Black
15.2hh
Halter,Western Pleasure,Dressage,Stud

Haziz Halim who is one of the youngest remaining sons of the famous *Ansata Ibn Halima and out of Serenity Shahrabi. Haziz has an outstanding, timeless pedigree, exquisite type, and just so happens to be black! (Which is pretty amazing considering the absence of black in his pedigree.)
One of the best things that Haziz passes on to his progeny is his remarkably pleasant disposition. In addition, his offspring have nice typey heads, good reach, stretch and movement, and substantial size, all of which are required for show ring wins. He is a performance champion and is siring champions in a variety of divisions. His offspring have distinguished themselves with Class A championships in hunter pleasure, western pleasure, country pleasure, show hack, dressage, and trail, as well as winning on the racetrack. They have also done well at halter as futurity champions, class A champions, and IAHA Sweepstakes money winners. Haziz Halim is a consistent sire who leaves his indelible mark on his offspring. For this reason, he crosses well with a wide range of bloodlines. Because of Haziz's excellent disposition, he is a real joy to handle on a daily basis as well as a pleasure to ride.
Stud Fee:$3500
Not Standing To Public Stud

Foals Sired By Haziz Halim
Z Haziza Nile Dahmah - - - - - - [Zarmia Arabians]Filly]
Z Masada Halina - - - - - - [Zarmia Arabains]Filly]
Haziz Starziza - - - - [Margaret]Filly]
Desiree Halima - - - - - [Kili ]Filly]
Minstril's Magic Serena - - [POB]Filly]
Gabala Haziza Halim - - - - [Kili]Filly]
Haziz's Image - - - - []Equus_LoverColt]
Haziza Shawqaar - - - - - - [Kili]Filly]
Haziz Moonstruck - - - - - [Kili]Colt]
Thee Haziz - - - - - [POB]Colt]
Ansata Ibn Haziza - - - - - [Wabbit]Filly]
Thee Haziza Maroufina - - [Suntouch]Filly]
Desiree Halima - - - - - - [Kili]Filly]
Z Sheikh El Damitha - - - [Sassycat]Filly]
Z The Shahrzada - - - - [Hope]Filly]
Aterina's Haziz - - - - [Jinju]Filly]
Imperial Bint Halim - - - - - [Kili]Filly]
Latif Halim - - - - - [

Shayla]Colt]
Hafiza Nile V - - - - -[

Shayla]Filly]
Haziz Ferdous - - - - - - - - - -[JJ]Colt]

Hadaya Haziz - - - - - - -[Chelsea]Filly]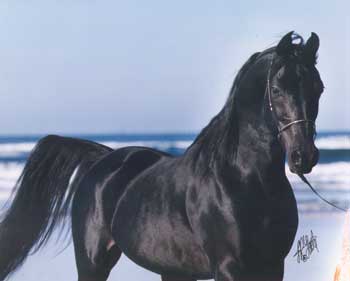 |Mansour
|Nazeer
|Bint Samiha
|Ansata Ibn Halima++
|Sheikh El Arab
|Halima
|Ragia
Haziz Halim
|*Khofo
|Serenity Osiris
|*Serenity Bint Nadia
|Serenity Shahrabi
|Anter
|*Serenity Shahra
|Shahrzada
About The Sire
The legendary *Ansata Ibn Halima was imported in 1959 by Donald and Judith Forbis, along with *Ansata Bint Zaafarana and the Egyptian mare *Ansata Bint Mabrouka. *Ansata Ibn Halima was the product of breeding a Mansour son to a Mansour granddaughter. There is a special quality in the head and facial details found in many of the offspring of this combination of Nazeer bred to Sheikh el Arab daughters. The graceful and shapely set of the ears, eyes, and prominent forehead with muzzle parts low in the line of the face are often seen in this group. Another distinct feature that frequently crops up with the Nazeer blood is a slightly rotated front right knee.
*Ansata Ibn Halima's show ring presence was to win him many admirers. He is the only Sheykh Obeyd stallion to sire both a National Champion Stallion and Mare and sired 14 national winners himself.
About The Dam
Serenity Shahrabi Was a Chestnut Mare Born in 1977 Is is Grandaughter of Khofo There is always a special horse that captures their owners completely. Khofo was the stallion that claimed the hearts of the Melnyks. This amazing horse is in the pedigrees of many horses noted for their performance accomplishments. One of Khofo's most remarkable sons is SF Untouchable (1976).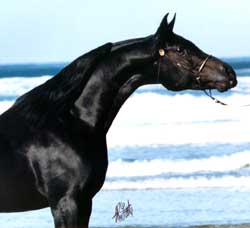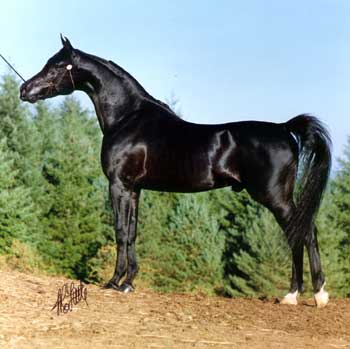 Honorable Mention - Class 1 Halter - WSS Too Bored Show
1st - Class 6 Western Pleasure - WSS Too Bored Show
1st - Senior Halter - SS Show Board
6th - Senior Stallion Halter - Sim Arabian Event
1st - 9yrs+ Halter - Lucia Festival
2nd - Stallions B Halter - Lucia Festival
1st - Western Pleasure -Indio Aranian Show Board
4th - Arabians I Halter - Lucia Festival
3rd - Colour Halter - Lucia Festival
7th -Western Pleasure - SS Show Board
1st - Halter Section C - Foxwood Farm Show Board
5th - Grand Prix Dressage - Epona Arabians Quickie Shows
2nd - Advanced Western Pleasure - Serendipity Show
3rd - Stallions B Halter - Serendipity Show
4th - Black Halter - Serendipity Show
3rd - 10yrs+ Halter - Serendipity Show
2nd - Grand Prix Stallion Dressage - Frost Farm 2
2nd - Open class Dressage - Frost Farm 2
5th - Black Halter - Epona Arabians Quickie Shows
3rd - Black Halter April 7 - Mystic Oaks Limited Shows
6th - Stallion Halter B - Allsim Arena
1st - 1998+ B - Allsim Arena
5th - Colour Black - Allsim Arena
1st - 15 mile trail ride - Chilly Endurance Race
1st - 14+ Senoir Western Pleasure - ZA November Show
3rd - 10+ Senoir Western Pleasure - ZA November Show
3rd - Stallion/Gelding Senoir Western Pleasure - ZA November Show
2nd - 10+ Senoir Stallion Halter - ZA November Show
4th - 14+ Senoir Straight Egyptian Halter - ZA November Show
1st - 14+ Senoir Stallion Halter - ZA November Show
4th - Stallion Halter - Quartet Arabians Main November Show
4th - Straight Egptian Halter - Quartet Arabians Main N ovember Show
3rd - Stallion/Gelding - Quartet Arabians Main November Show
2nd - Senoir Halter - Quartet Arabians Main November Show
Titles:
Lucia Festival Age Halter Champion
Lucia Festival Overall Halter Champion
SS Shows Reserve Champion Halter 2
WSS Approved Superior Stallion
1998+ Reserve Campion Allsim Arena May 2003
2003 November Zarmia Arabians Senoir Western Pleasure Champion
2003 November Zarmia Arabians Senoir Halter Champion